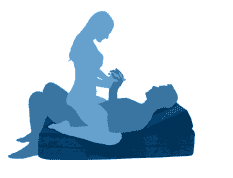 Woman on top, is where the man gets to rest and the woman does all the work. What's really nice about the woman being on top is that men like to watch and there's a whole lot for him to see from his point of view. Besides, now that he's not so busy thrusting, he has time and free hands for other things like fondling his lovers breasts or clitoris, which is greatly appreciated.
This is also really great for the women because she has total control over how deeply and how hard she is penetrated. We women of the 21st century like control. She can also position herself in many ways that can stimulate all different parts of her vagina.
T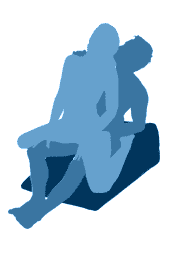 he most common version of the woman on top position is with the man lying flat on his back, while the woman kneels down and straddles his penis, with her knees on either side of his hips. With the woman in this position she can control the focus of stimulation by leaning forward or backward. Leaning forward gives more clitoral stimulation and leaning backward increases vaginal stimulation. This also allows for that all important eye contact
and kiss ability. She also has the option of being a little dominant, holding her lovers arms down while riding him. The man benefits from this too because his hands can wonder fondling her breasts or just simply enjoying the show being put on for him.
The woman can also straddle her partner the same way, but backwards, facing away from her lover. This is very stimulating for the man, because the more the woman bends forward towards her lovers toes, her penetrated vagina and anus are totally exposed for the man to see. And if the woman is into a little anal play, the man can reach up and tickle or lightly rub her anus. But most importantly, there is more pressure put on the penis which is added pleasure.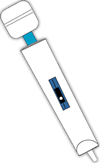 Personally, I really like this position because I get to control how deeply and how hard I'm penetrated. I also like to put on a show for my man, so I believe it gets rave reviews from the both of us. This little bit of domination is quite a turn on too and it's really awesome because there's plenty of room for me to use my Hitachi Magic Wand and my boyfriend loves to see me have an orgasm while riding him and using the Wand. It's intense pleasure for me and a totally hot show for him!
Spice It Up!
My boyfriend and I love to spice up this position with the Cube and Wedge Combo Liberator Shapes. Position the Cube on the floor at next the bed and take the Wedge and put it on the bed at the edge. Then the man can sit down, putting his butt on the Cube and lay back against the Wedge on the bed. This positions him very comfortably in angled up position allowing him to see all the action clearly, giving him visual stimulation, but also keeps him close to you for that intimate contact. This combination rocks for us women because we can very easily straddle our guys with our feet very comfortably on the floor. By using the Cube, it doesn't take us a ton of leg muscles to ride him like a porn star because we're not putting undue pressure on our legs. The cube is at the proper height for most of us to be very comfortable. You can easily ride him facing him or facing away. Yummy!
The Cube is also great for many other spicy sex position combination. Your man can also sit straight up on the Cube, not leaning against anything and then you straddle him, either facing him or facing away. Either way, the same thing goes, you're both very comfortably seated, so as the woman being on top, you have easy control in riding him. This offers the most closeness and intimacy.
See Also :