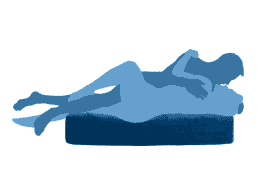 The sex position known as, Side by Side or "Spooning", can be very intimate and are good for all those cuddlers out there. It allows you to be very close to your lover. It does mirror all the 'on-top' positions except the partners are now lying on their sides. If the man faces the woman and the woman has her back towards the man, he can actually hug her as he penetrates. It really does bring cuddling and sex together at the same time. It also been known as the sneaky, the man is gonna wake his woman up in the morning with a little poking, position. It's fine for a little wakeup call, but some men don't realize that you need to lube up your penis before inserting it into a sleeping vagina. Hey, I'm only mentioning it because I see a need.
I personally like this position for those early morning quickies. I mean, lets not lie, we all are a little stinky in the morning and have some really kicking breath, so this allows both partners to have a nice cuddly quickie without knocking each others
socks off with bad breath. You know what I mean? Just a thought I wanted to share.
Sometimes the Spooning position doesn't allow for the deepest penetration. In order to go deeper, I have found it helpful as I'm laying on my side, facing away from boyfriend, to also bend forward so that my body is in a sort of L shape. I can't bend completely in half, but I'm hoping you see what I'm getting at. By doing this, I have opened myself up
more down there and can kind also push myself up against my boyfriend a little easier as he penetrates me.
Side by Side is also a great position to use a vibrator. You're facing away from your man anyway, so why not get a good vibe in there to give you some extra pleasure. I have found that as I'm bent forward, as mentioned just above, I grab my Hitachi Magic Wand and on the low setting, put it right between my legs. It doesn't interrupt penetration at all and not only do I get some extremely pleasant vibrations, but my boyfriend enjoys them as well.
Don't give up on this position. Just try to bend and more your body a little and I'm sure you'll find a subtle difference that will make a big difference in your enjoyment of it.
Read More:
See Also :