Sex Positions, Man on Top, is by far the most common sexual position yet. Some think this is boring and old hat, but it does really have some redeeming qualities when it comes to pleasure. I know it still rocks my world! So, lets discuss.
The missionary position allows for direct clitoral stimulation by hands or vibrators, our favorite being the Pocket Rocket because it's small so it doesn't get in the way and packs a lot of punch. This can be very important because some women can only reach orgasm by simultaneous vaginal and clitoral stimulation. So you're sure to please.
It allows you to look at your lover. This is really great great because eye contact is so important. By looking directly into your lovers eyes, while being fucked or fucking is really very exciting. It almost brings you to a new level of stimulation and erotica. Plus, you can both easily kiss each other without having to contort your upper bodies too much in order to reach one another.
Your woman can also control how deeply she is being penetrated. This can be achieved by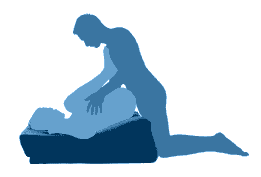 hollowing the back, or curving her pelvis up toward the penis. Hollowing the back limits how far the penis can go in and curving the pelvis up allows for deeper penetration.
The woman can easily move her legs in different positions adding more pleasure to her and her partner.
There are many variations on, unfortunately, what some believe has become a boring, old hat position. The only bad side to this position, is that the man has to do all the work. This position is a tried and true classic for a reason. There are so many more ways to make this position really hot, so hot that it may become your favorite.
So let's explore…
Making the Old Missionary New Again
This position doesn't have to be boring, it can actually be alot of fun! My boyfriend and I have found that the Liberator Shapes Ramp and Wedge Combo makes this position more comfortable, more
intimate and depending how you combine the two, a lot of fun. As I said above, one of the down sides to this position is the fact that the man has to do all the work. By incorporating the use of the Liberator Shapes, the lower half of your body can be angled up in such a way that your man doesn't have to feel like he's doing push ups the entire time you're having intercourse. There are also many combinations of these cushions that allow the two of you to not only be more comfortable, but more intimate as well…and that's ALWAYS a good thing. Some positions allow for deeper penetration, others support more shallow penetration and still more just make this position fun. And the good thing is that they're very affordable and last quite a long time.
Speaking of deeper penetration, for those women that are trying to conceive, the Liberator Shapes can help you get comfortably in positions that allow for that deeper penetration you need, giving the sperm an area to sort of pool around in near the cervical entrance!
So see, the old Missionary, Man on Top Position is not boring and is definitely not 'old hat'. It's a position that my boyfriend and I get into just about every time we have sex because it really is one of the
best positions to get into.
Read More:
See Also :