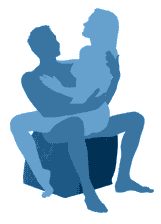 Did you ever hear your friends talking about the great night of sex they just had; all the crazy sex positions they got into and how it was the best sex they ever had? And you stood there wondering what made it so great? Well, you're not the only one. Finding the ultimate sex position is one of the most sought after pieces of information for couples.
Which position is the most exciting? Which will give me the most intense orgasm? Will satisfy my kinky side? Which will my lover enjoy most? I think I have a huge butt, so which position should I avoid? Which one will help me get pregnant? There's all kinds of concerns and desires when trying to find which position suits you best. In order to help you with that, I've devised a little guide of sex positions most people get into. We'll discuss the good and the not-so-good for him and her, what pleasure each can recieve from these positions and how to spice them up a little with different techniques and variations.
I think you'll find, as you read through, that all these positions have some really good points to them. It's all in how you vary them and the different techniques you incorporate into them that make sex a mind blowing experience for the both of you. So enough of my babbling, let's get into position!
See Also :